Why Highly Placed Nigerians Love Wiesbaden


By Chinedu Ogoke & Sakhos Ejiofor

( Friday, August 15, 2008 )

"The order in which the love of Wiesbaden by the Nigerians occurs is understandable. States in Germany are adults. In addition to internal and external security being conceded to the federal government, they are dwarfed by the federal government in being lesser known institutions." -Chinedu Ogoke & Sakhos Ejiofor


For visitors to German cities, a remarkable feature they confront is the presence of city trams rolling smoothly on slender wheels, with Y-shaped sticks running overhead against electric cables knotted at intersections. A keen observer would notice that the cities cut their trams according to the cities' sizes and needs. German engineers give their people the most beautiful trams mankind can contrive. And Wiesbaden the city Nigerian officials have been in love with for about four decades can support any tram of any length. It is said that your person is revealed by the kind of company you keep. An elitist city like Wiesbaden, concerned about the company it keeps, took those trams off its streets. Just suddenly, when one drove up or walked up in the inner city one noticed that the familiar overhead crossings have disappeared with the affected roads redesigned. Sky scrapers that are the city of Abuja's heart desires can make a sky untidy. They are found to be incompatible with the tastes of this city of Wiesbaden. Frankfurt may be on the list of travelers to Germany, but hardly Wiesbaden. Yet, Wiesbaden is the capital of Hessen, the state in which Frankfurt is located. State administrators in their official duties are just welcome in Wiesbaden as long as they can keep the excitements of administration as low as possible. This phenomenon goes beyond the normal idea of two cities, one a commercial and the other an administrative capital. Conformity with such an arrangement is what has Frankfurt hugging foreign diplomatic missions, alongside global concerns like Deutsche Bank, the European Union's (EU) Central Bank and crowd pullers like the Frankfurt Book Fair. Given its priority of making the rich comfortable, Wiesbaden eliminated the irritating buzz or sight of aircraft. It is right with her if light aircraft of the not-too nearby American airbase which lack the regularity and problems of big passenger aircraft can operate occasionally. Nor can Wiesbaden bear having industries around her. It helps profoundly that crimes of whatever shade are trapped in cities in and around Frankfurt. The city generally has to make itself delightful; else she would be shunned by the Umaru Yar'Aduas.

Wiesbaden is regarded highly because to think highly of itself, is to perceive everybody as being entitled to some respect. The brake in President Yar'Adua's car while the man is driving along the city's roads, becomes useful especially at a zebra crossing, no matter the status of the pedestrian. Yes, at the zebra crossing in Wiesbaden, the road user is treated as a king. In Germany, men of the armed forces are honorable men and are aware that commissioned officers' uniforms are not open to public view. In Nigeria, discussions among groundnut and pure water hawkers, young and old are, often loaded with references to military ranks. The average German exercises incredible knowledge on national and world affairs, but is the wrong person to ask the rank a soldier attains after promotion from the rank of Captain. Neither are military ranks exhibited anywhere in Germany. Except for purposes of crowd control or road accidents that are uncommon, police vehicles and individual policemen and policewomen are rarely seen on close quarters. Rifles are definitely out of sight, and you must look really closely to see outlines of a police service pistol, since fire arms are known to communicate some wrong messages. Humility in public service is relayed from the top. So it was some few years ago, that about five nude male and female students broke through a little audience gathered in the rain, listening to an outdoor speech by then German Chancellor, Gerhard Schroeder. The protesters were promptly ceased and covered up before they got close to Herr Schroeder. Even in that awkward situation, in his public servant nature, Schroeder gathered up from the wet floor, rags and papers the protesters did not have the chance of picking up, intending to hand same over to them, but was relieved by aides. This was a change of attitude from the repeated disorderly conduct of his predecessor Helmut Kohl, who once struck back at someone in a crowd. This is why Wiesbaden has made itself so beloved.

Wiesbaden is closer to America's heart than Nigeria's. America emphasized the closeness during World War II. In that war in terms of intensity of bombing, Mainz is a point of reference with American pilots looking back after their operations and in some quarters hardly finding buildings still standing. At the end of the war, the people of Mainz pushed aside the lids of their bunkers to get out, and the city struggled to its feet, spending the years after the war in reconstruction. As they say, the paper-thin Rhine river splashes its waters on Mainz and on the outskirts of Wiesbaden. But Wiesbaden only had a church dented in that war. A pilot, who could not have been an American, had probably misread instructions and struck that church. Unlike several German cities, Wiesbaden has gone on with life, assured no unexploded World War II bomb is lodged in its earth. Wiesbaden's value to America is seen in American bias in the back and forth tossing of the suburban Kastel, to which Mainz traditionally has stronger claims. It went finally to Wiesbaden. We can break down German cities in terms of foreign populations, into some demographics. Düsseldorf is designated a Japanese city, with more Japanese likely to stick out their necks on a warm day from the windows of their apartments than anywhere else. Africans are more at home in Hamburg. More Turks can be seen in Berlin than elsewhere. One can point out American presence all over the country. But America's presence in Wiesbaden becomes more passionate. The relationship begins to fit into the 'American/German international border' concept, the same result obtained with Ramstein also in Germany, ranging from the American-Canadian border arrangement to invisible domestic borders. In Wiesbaden, there are American dwellings clustered around the Crestview Village, an American military housing. In varying degrees, there is in that city celebration of America. In Wiesbaden, an American for instance lives his fantasy in his replica of the American president's White House. The house is situated within the Sonnenberg area.

The order in which the love of Wiesbaden by the Nigerians occurs is understandable. States in Germany are adults. In addition to internal and external security being conceded to the federal government, they are dwarfed by the federal government in being lesser known institutions. The head of state is not a bully, since the Germans have a union of equals, each respecting the contract of their 'Bund' or union. The center is capable of unintentionally acquiring more influence. Interestingly, it has lately been discovered that the center has not made efforts to check its growing powers, which is now hurting the union. Therefore a meeting has been called so that the states can take back some of the powers they have lost.

Wiesbaden reveals her secrets in a lot of ways to Yar'Adua, a man considered to be a good learner. As an occasional visitor to Wiesbaden, Yar'Adua should be familiar with the name Roland Koch of the Christlich Democratische Union Deutschlands (CDU), a conservative, who directs affairs from Wiesbaden. Koch had been taking steps that would see him become a future German head of state or Chancellor, and was favored to achieve that. But he overplayed his hands with comments about deportation of immigrant children involved in crime, and in lowering the age of criminal responsibility to 14 years, as he saw his numbers slipping in the polls. Some children with immigrant backgrounds had been on the offensive against elderly Germans, and Herr Koch decided to exploit the development for his commentaries. Those were viewed as political calculations by voters, who recalled previous methods. He meant to appeal to the right, since state elections were few weeks away. The electorate eventually took away certain victory from Koch, and his opponent, a Frau Andrea Ypsilanti's [of Social Democratic Partei (SPD)] scoop from the Koch problem was a seat shy of her forming a majority and building a coalition government. Herr Koch has to assume that his political career is ended, with it the Chancellorship, due to those comments, thanks to the unforgiving electorate. When I shook hands with the SPD governor of Rhine-Land Palatinate at a ceremony three years ago, I thought I shook the hands of a future German Chancellor, even though Herr Beck had never indicated interest in the job. Beck's sustained good performance in his state should give him enough pass marks in his political life. Yet, Koch's mouth put Beck in trouble. Where Herr Beck saw a rival party fail, he exhibited what to many people contradicted the principles of his own party. It is on record that he never contradicted Frau Ypsilanti in her repeated pre-election statements never to build any government with the rising Communist party, due to policy differences, but now gave Frau Yipsilanti the nod to work with the Communist party. He also looked the other way as his party functionaries mounted pressure on an uncooperative party member whose seat was what SPD finally required after securing a deal with the Communist party to take the state of Hessen. SPD is akin to a conscience party. Kurt Beck was ill at this time, but took too long to make a public appearance, when public opinion quickly went against him. Anyway, he may not be in the minds of voters as a viable candidate if he were to run for Chancellorship. A court also had to consider charges against Frau Yipsilanti and some party members for the intimidation of a colleague. The essential rule of this democracy, something Yar'Adua may have found out, is not to intimidate anyone, or do anything that suggests intimidation. It was the story of Edmund Stoiber, governor of Germany's richest state, Bavaria, of the Christlich-Soziale Union in Bayern e. V. (CSU) and sister party of CDU, who was whiskers away from the German top job, and who still had a fat chance at it, but whose political career ended because he was accused by a Frau Gabriele Pauli, a female party colleague, of suppressing female voice in the party. Her insistence that he step down from the big stage forced him to resign. The young lady subsequently acquired a big baggage that repelled everyone else.

Yar'Adua may also learn that ex- German Chancellor Gerhard Schroeder's (SPD) problem started when Schroeder appeared to covet power when after national parliamentary elections, there appeared to be no clear winner, with Angela Merkel's CDU having a little majority. Observers can recognize that the voice that reminded Schroeder then of good conducts was Kurt Beck's (SPD). Nobody remembers what life for Schroeder outside government quarters looks like. While he was in charge, people did not like the unemployment figures they were seeing, contrary to his election promises and the reason why he was chosen over Helmut Kohl. Today, the magic word in Germany, which Yar'Adua has heard severally, is 'Agenda 2010.' It is today the basis of German economic growth. The present Chancellor Angela Merkel's government profits from Agenda 2010, which continuity her coalition government has ensured. Agenda 2010 is Gerhard Schroeder's idea. This establishes the fact that Schroeder was right after all. Yet, he has never come out in public to take credit for Agenda 2010, nor has he responded to criticism of accepting a modest 50,000 euro monthly job after leaving office as spokesperson for a Russian gas pipeline project. Wiesbaden owes its accomplishments to this set up, which is why it is irresistible for the sick and the fun-seeking Nigerians. Wiesbaden's message is "give me your super rich or your wealthy sick and I will spoil and comfort them."

Each German city tries to capture the attention of tourists and businesses. Rhine-Land Palatinate has not got players like the construction company Julius Berger, which has well-developed roots in Nigeria. Rhine-Land Palatinate's Mainz surely misses the Nigerians and other tourists, though not entirely. She has to concentrate her efforts where she has her strengths. A revealing scenario like I was informed is the presence of a Nestle facility in Mainz. Nearby Wiesbaden like Mainz is uncomfortable with the pollution from Nestle. Mainz ought to have had enough of the company. The city has no choice but to live with the problem else the company would be snapped up by Wiesbaden. Every German state has to be competitive since it must be self-supporting. Even the 'Neu Laender' or new nations of former East Germany that are almost being breast-fed through the temporary 'solidarity contributions' from taxes paid by the citizens and the rich states have to wake up and start running. The process definitely appeals to Yar'Adua and the super rich Nigerians. But due to their love for Wiesbaden they would not contemplate Nigerian firms bringing home trophies like the so-called multi-nationals do in their home countries. They are so love struck, they cannot for instance, lobby on behalf of Cross River State's Tinapa Business resort. Germans are known tourists, a fact not lost on Yar'Adua and his colleagues. Yet the man's love for Wiesbaden surely will prevent him from bringing Germans to Tinapa and showing them around. Given their love for Wiesbaden, how can Nigeria line up other products like tea and coffee for the world market? The northern states would not be encouraged to have groundnuts processing lines, nor the Eastern governors whose meeting place is said to be Britain be seen to be setting up food processing plants or the like. A state like Lagos can come up with its own answer for what may have sprung up in the Adamawa area. But for their love for Wiesbaden, that may never happen.
Photo Above: Nigerian village women( some bare-footed ) attending a community function. *Upon independence up to the mid-1980s Nigeria ranked a middle-income nation. Today, though Nigeria is the 8th largest producer of oil in the world, she is amongst the 20 poorest nations according to world bank records. Corruption is the main reason for Nigeria's poverty. One can correctly say that Nigeria is 'oiled to poverty'.
Click for Map of Nigeria showing its 36 states & capital( Abuja )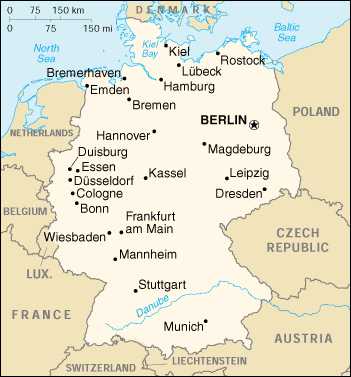 Photo Above: Map of Germany showing Wiesbaden.
---------- ---------- ----------
Disclaimer
Related Links:-
Nigerian leaders looted $500b foreign aid
Nigerian leaders stole $20-trillion
Go Dancing For Nigeria
Nigeria: Oil bounty is daunting curse
'Nigeria's leaders locked in a bad marriage'
Nation's anger at Nigerian looters
Aso Rock, home of retired Nigerian generals
$170b owned by Nigerians in foreign banks worries EFCC