Nigerian Military Plane Crash Victims

Nigeria was hit by major tragedy on September. 17, when an 18-seater Dornier 228 Air Force transport plane, carrying 15 senior army officers and three crew members crashed leaving only three survivors that sustained serious injuries. The plane with registration number 228-212 crashed in northern part of the country at Oko village in Vandeikya local government area of Benue State at about 10:30 a.m.
The military officers were members of a committee setup by the government to reposition the Nigerian Army. The plane departed Abuja in the early morning hours of September 17, on its way to Obudu Cattle Ranch in Cross River State where the officers were to hold a retreat.
President Olusegun Obasanjo who was overseas during the air disaster, cut short his trip and returned home. He ordered three days of national mourning for the officers some of whom are in the top echelon of the Nigerian army.
The crash is the second major air disaster involving top military officers in the country. On September 26 , 1992, a Nigerian Air Force C-130 transport plane carrying top military officers crashed in Ejigbo near Lagos, minutes after leaving Lagos airport. All passengers died in the crash, 173 bodies were found, 27 missing.
Kaduna State based DANA Aviation company, which sold the Dornier aircraft to the Nigerian Air Force(NAF), also maintains the fleet for her. Dornier 228 plane is fairly common in Nigeria. Its owners include Dornier Aviation Nigeria AIEP( DANA) which has 12 planes, the Nigerian Air Force(NAF) with eight, the Nigerian National Petroleum Corporation (NNPC) and Power Holding Company of Nigeria(PHCN) with one each.

Left to Right: Major General A.N. Bamali, Major General J.O. Adesunloye & Major General J.O. Agbola
The Dead

1. Major General A.N. Bamali - GOC 2 Division - from Kano State
2. Major General J.O. Adesunloye - GOC 81 Division - from Edo State
3. Major General J.O. Agboola - Military Secretary - from Osun State
4. Major General P.M. Haruna - Commandant, Army Signal Corps
5. Major General J.T.U. Ahmedu - from Edo State
6. Major General S.O. Otubu - Chief of Policy and Plans - from Edo State
7. Major General B. Duniya
8. Major General S.M. Lemu - Director of Operations, Army Headquarters - from Niger State
9. Brigadier-General Y.J. Braimah - from Edo State
10. Brigadier-General M.B. Bawa - from Niger State
11. Lt-Colonel N.A. Mohammed - from Niger State
12. Wing Commander E. O. Adekunle( pilot )
13. Wing Commander O. Balogun( Co-pilot - died enroute to the hospital )

Survivors

1. Colonel O. C. Ajunwa
2. Colonel N. I. Angbazo
3. Colonel A. L. Dusu
4 & 5. Two crew members( a technician and an air hostess )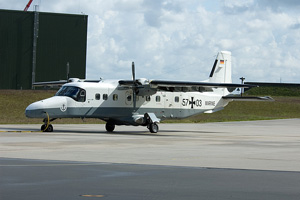 Photos Above: Ist - A Dornier 228 plane, 2nd - Nigerian Air Force Dornier 228 crash site. The Dornier 228 was first flown in 1981. It was originally conceived as a turboprop version of the Dornier 28 utility aircraft. a new wing was developed which enabled higher speeds than was available at the time from the nearest competitor, the Beech 99. Many Dornier 228s have been built and are in service throughout the world.



Other Related Links:-
Passengers aboard Nigerian crashed Belleview plane
Passengers aboard Nigerian crashed Sosoliso plane
Nigerian plane crash-land, many escape death
Plane from Nigeria forced to land in India
Black boxes from Nigerian crash found
Nigerian Jet Crash Kills at Least 103
75 Students in Crashed Nigerian Plane
7 survive Nigerian plane crash -Early reports
CHRONOLOGY-Disasters in Nigeria
Nigerian plane with 117 aboard destroyed in crash
117 aboard Nigeria plane killed
Recent Air Crashes in Africa
World air disasters timeline
Go Dancing For Nigeria( Nigeria Timeline )


Masterweb
Sign Our Guestbooks
Nigeria Masterweb Guestbook

Africa Masterweb Guestbook




NIGERIA




AFRICA
To NigeriaMasterweb News NigeriaMasterweb.Net Nigeria Masterweb Home
AfricaMasterweb News Africa Masterweb Home

Copy & Email This Page's URL To Your Friend:
Here's the URL:- http://www.nigeriamasterweb.com/NigeriaMilitaryPlaneCrashVictims.html