Lee Mingwei is First Pregnant Man
By Chief Charles O. Okereke
( Saturday, June 22, 2002 )
Send Comments To Masterweb
"Fertility experts have known for years that men could bear children." -Dr. Elizabeth Preatner
Fertility experts have accomplished astonishing feat in the quest for new world of human reproduction. Mr. Lee Mingwei, a Taiwanese American, is now the first pregnant man in history. A team of doctors at RYT Hospital, Dwayne Medical Center, New York, employed In-Vitro Fertilization (IVF) techniques to induce an ectopic pregnancy in Mingwei by implanting an embryo and placenta into the abdominal cavity, Mingwei weighed 167.5 1bs, his blood pressure 80/120 and fundal height 37.3 inches as at June 19. He is reportedly in good health and spirit. The expectant 'mother' has no name for the child yet. He was quoted as saying, "I believe I'll only know the name when the child is born. I guess we'll have to wait and see" Mingwei reportedly, will be delivered by Caesarian session. Lee Mingwei was a fairly known figure before his procedure. He is said to have as an artist, exhibited at the Whitney Museum of American Art, among others.
RYT Hospital has set up a web site where the public can monitor developments on the procedure, and interact with others on opinions. A large number of respondents have condemned the development, and quite another large number supporting it. Opponents argue that if the Mingwei experiment succeeded, it would give gay couples a chance to reproduce children like themselves. Proponents some of whom want the procedure themselves argue it will aid in gender equality. RYT Hospital reportedly has received several requests from as far away as India and Senegal for the procedure. Dr. Elizabeth Preatner, a prenatal geneticist and embryologist at RYT Hospital says "A woman from India asked me to fly over and impregnate her husband, who – upon hearing about male pregnancy – has insisted that he carry their second child." A man in Senegal is quoted as saying to the hospital, " I've dreamed about this my entire life. Sign me up!".
"Fertility experts have known for years that men could bear children," explains Dr. Elizabeth Preatner. She explains, "With the success of delivering ectopic pregnancies in women, it has became clear that a uterus is not essential to childbirth. We have proven that within the proper biochemical environment, an embryo can indeed implant itself within a male abdominal cavity and thrive." "When it comes to the burdens of parenthood, women usually trump men with one simple fact -- only females can get pregnant and give birth.", Kathy Slobogin of CNN Medical Unit, wrote in her article 'Liberated seahorse dads carry the babies'. The scale will change to an equilibrium if all goes well with male pregnancy. Whether this is an important stage in the fight for gender equality remains to be seen.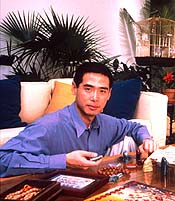 Photo Above: New York based artist Lee Mingwei at Isabella Stewart Gardner Museum.
---------- ---------- ----------
Related Links:-
The Science of Male Pregnancy
Male Pregnancy Now an Option
The First Human Male Pregnancy
The future of male pregnancy is drawing near
Search This Site
---
Copper.Net
is Ad-Free, Fast
& Virus/Worm Free


Copper.Net
Now Available
in U.S. & Canada

---